Updated March 9, 2021
Acthar
®

Gel Value to Patients

Our mission at Mallinckrodt is Managing Complexity. Improving Lives. Our employees live this mission every day, and we're focused on providing safe, effective treatments that make a difference in the lives of underserved patients, especially those with severe and critical conditions.

Mark Trudeau's U.S. House Committee on Oversight and Reform Testimony on Mallinckrodt's Pricing Policies and Modernization Strategy for Acthar Gel (October 1, 2020)
The Facts About Acthar Gel
Acthar Gel (repository corticotropin injection) is for many frequently, very sick patients, a life-changing drug. We are proud of Acthar Gel and the important investment we are making in it, and we are gratified that we can positively impact patients' lives through this drug.
Acthar Gel is FDA-Approved for 19 Indications
While Acthar Gel has been used to treat patients for more than 50 years, its label was reviewed by the FDA in 2010, at which time the FDA determined there was sufficient scientific and clinical evidence to support its use in the 19 various indications1 contained in the current Acthar Gel label.
One of these indications is for use of Acthar Gel in the treatment of Infantile Spasms (IS)2. Two randomized clinical trials were submitted in support of FDA approval of the drug and its effectiveness as a treatment for IS, one of which compared Acthar Gel to prednisone. In that trial 86.7% of patients had a positive response to Acthar Gel vs. 28.6% that responded to prednisone. Patients who responded in the pivotal study treated with a two-week course of Acthar Gel therapy experienced complete suppression of the two key measures of disease – spasms and hypsarrhythmia. The IS clinical trial results appear in Section 14 of the full prescribing information for the drug.
Aside from treatment of IS, Acthar Gel is often prescribed by doctors predominantly as a later-line treatment to a small subset of patients suffering from various devastating diseases for whom other approved FDA treatment options have failed.
Mallinckrodt's Investment in Acthar Gel
Since acquiring Acthar Gel in 2014, Mallinckrodt has invested more than $660 million into the drug, specifically: building on substantial clinical experience as well as previously completed and largely independent clinical case series and smaller trials; modernizing manufacturing; expanding medical affairs and research activities; and initiating seven well-designed, company-sponsored randomized, controlled clinical studies, targeting combined enrollment of nearly 1,100 patients.2
Significant Clinical Evidence Supports the Efficacy of Acthar Gel
There is significant clinical evidence to support the effectiveness of Acthar Gel. This evidence is the result of company-sponsored controlled clinical trials, investigator-initiated research conducted in top hospitals and medical centers by some of the country's preeminent physicians, and health economic and outcomes research data. Equally important, there are decades of clinical experience that doctors have with the product as a proven therapy for appropriate patients.
As an FDA-approved drug, Acthar Gel is deemed safe and effective for its labeled indications by the agency. Since acquiring Acthar Gel, Mallinckrodt has, though, continued to conduct post-approval clinical studies in a number of key indications. Along with the wealth of clinical experience gained over the decades with this drug, this data will assist physicians in the use of Acthar Gel in the most appropriate patient populations.
On February 5, 2019, Mallinckrodt provided a data update on its Phase 4 Acthar Gel clinical trial in patients with rheumatoid arthritis (RA) and reported the open-label phase of the study was completed. Additional details on the RA clinical trial were also provided on May 2, 2019.
Past statements on various Acthar Gel-related topics can be found here.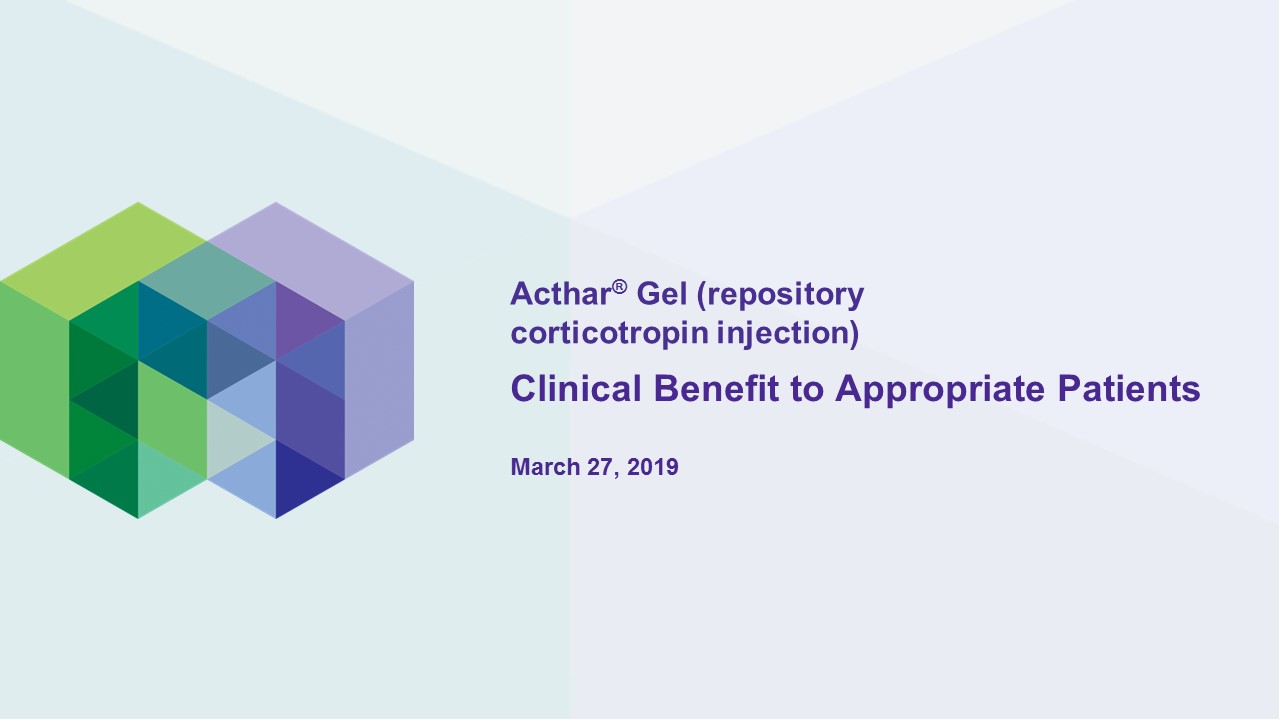 Clinical Presentation: Rev. March 2019
About Acthar Gel (repository corticotropin injection)
INDICATIONS
Acthar Gel is an injectable drug approved by the FDA for the treatment of 19 indications. Of these, today the majority of Acthar use is in these indications:
Treatment during an exacerbation or as maintenance therapy in selected cases of systemic lupus erythematosus
Monotherapy for the treatment of infantile spasms in infants and children under 2 years of age
The treatment of acute exacerbations of multiple sclerosis in adults. Controlled clinical trials have shown Acthar Gel to be effective in speeding the resolution of acute exacerbations of multiple sclerosis. However, there is no evidence that it affects the ultimate outcome or natural history of the disease
Inducing a diuresis or a remission of proteinuria in nephrotic syndrome without uremia of the idiopathic type or that due to lupus erythematosus
Treatment during an exacerbation or as maintenance therapy in selected cases of systemic dermatomyositis (polymyositis)
The treatment of symptomatic sarcoidosis
Adjunctive therapy for short-term administration (to tide the patient over an acute episode or exacerbation) in rheumatoid arthritis, including juvenile rheumatoid arthritis (selected cases may require low-dose maintenance therapy)
Treatment of severe acute and chronic allergic and inflammatory processes involving the eye and its adnexa such as: keratitis, iritis, iridocyclitis, diffuse posterior uveitis and choroiditis, optic neuritis, chorioretinitis, anterior segment inflammation
IMPORTANT SAFETY INFORMATION
Contraindications
Acthar should never be administered intravenously
Administration of live or live attenuated vaccines is contraindicated in patients receiving immunosuppressive doses of Acthar
Acthar is contraindicated where congenital infections are suspected in infants
Acthar is contraindicated in patients with scleroderma, osteoporosis, systemic fungal infections, ocular herpes simplex, recent surgery, history of or the presence of a peptic ulcer, congestive heart failure, uncontrolled hypertension, primary adrenocortical insufficiency, adrenocortical hyperfunction or sensitivity to proteins of porcine origins
Warnings and Precautions
The adverse effects of Acthar are related primarily to its steroidogenic effects
Acthar may increase susceptibility to new infection or reactivation of latent infections
Suppression of the hypothalamic-pituitary-axis (HPA) may occur following prolonged therapy with the potential for adrenal insufficiency after withdrawal of the medication. Adrenal insufficiency may be minimized by tapering of the dose when discontinuing treatment. During recovery of the adrenal gland patients should be protected from the stress (e.g. trauma or surgery) by the use of corticosteroids. Monitor patients for effects of HPA suppression after stopping treatment
Cushing's syndrome may occur during therapy but generally resolves after therapy is stopped. Monitor patients for signs and symptoms
Acthar can cause elevation of blood pressure, salt and water retention, and hypokalemia. Blood pressure, sodium and potassium levels may need to be monitored
Acthar often acts by masking symptoms of other diseases/disorders. Monitor patients carefully during and for a period following discontinuation of therapy
Acthar can cause GI bleeding and gastric ulcer. There is also an increased risk for perforation in patients with certain gastrointestinal disorders. Monitor for signs of bleeding
Acthar may be associated with central nervous system effects ranging from euphoria, insomnia, irritability, mood swings, personality changes, and severe depression, and psychosis. Existing conditions may be aggravated
Patients with comorbid disease may have that disease worsened. Caution should be used when prescribing Acthar in patients with diabetes and myasthenia gravis
Prolonged use of Acthar may produce cataracts, glaucoma and secondary ocular infections. Monitor for signs and symptoms
Acthar is immunogenic and prolonged administration of Acthar may increase the risk of hypersensitivity reactions. Neutralizing antibodies with chronic administration may lead to loss of endogenous ACTH activity
There is an enhanced effect in patients with hypothyroidism and in those with cirrhosis of the liver
Long-term use may have negative effects on growth and physical development in children. Monitor pediatric patients
Decrease in bone density may occur. Bone density should be monitored for patients on long-term therapy
Pregnancy Class C: Acthar has been shown to have an embryocidal effect and should be used during pregnancy only if the potential benefit justifies the potential risk to the fetus
Adverse Reactions
Common adverse reactions for Acthar are similar to those of corticosteroids and include fluid retention, alteration in glucose tolerance, elevation in blood pressure, behavioral and mood changes, increased appetite and weight gain
Specific adverse reactions reported in IS clinical trials in infants and children under 2 years of age included: infection, hypertension, irritability, Cushingoid symptoms, constipation, diarrhea, vomiting, pyrexia, weight gain, increased appetite, decreased appetite, nasal congestion, acne, rash, and cardiac hypertrophy. Convulsions were also reported, but these may actually be occurring because some IS patients progress to other forms of seizures and IS sometimes mask other seizures, which become visible once the clinical spasms from IS resolve
Other adverse events reported are included in the full Prescribing Information.
Please see full Prescribing Information available at Acthar.com.